Original article by Chloe Wilson – The Bolton News
A limited edition gin has been launched to celebrate 100 years of Rotary in Bolton and it's already been a hit success.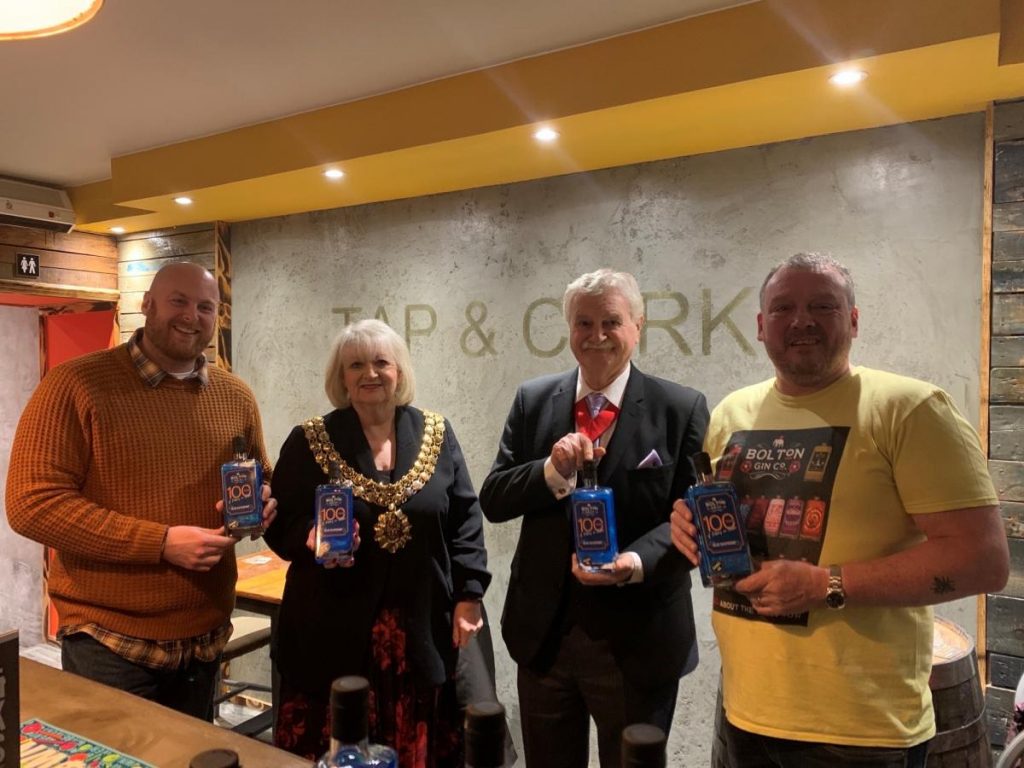 To celebrate the anniversary President Elect for Bolton Lever Rotary, Christopher Hill reached out to Paul Welch, Owner of Bolton Gin Company to make a bottle of gin.
Speaking about the Rotary, Christopher said: "I've been a Rotarian for four years and have been involved in so many worthwhile service projects, my proudest one being the Laptops4Schools project.
"As a deputy headteacher, I know only too well the impact the lockdowns had on children trying to access learning from home – often with only one device in the household to share between several siblings.
"Rotary Laptops4Schools upcycles unwanted laptops, saving them from landfill and delivers them to schools to distribute to their most disadvantaged children.
"I am especially excited to be a Rotarian in Bolton this year as I become President of Bolton Lever Rotary Club in July which is half way through the 100th year of Rotary in Bolton.
"I look forward to leading the club forward to continue the amazing work for our area."
At the event, people were given a free glass of gin, nibbles and a buzzing atmosphere before the Mayor, Cllr Linda Thomas, delivered a congratulating speech.
She said: "Rotary started with the vision of one man – Paul Harris – who formed the Rotary Club of Chicago in 1905 with a small group of business associates to exchange ideas and forge friendships.
"He quickly saw that the club could do something for their community and their initial project was to establish the first public toilets in Chicago.
"Not glamorous maybe but this set Rotary on the path we still follow today – to identify a need in the community and take action.
"The Rotary story began in Bolton in 1922 with the formation of the Rotary Club of Bolton.
"Over the years the Rotary Clubs of Bolton Le Moors, Turton, Westhoughton, Horwich, Bolton Daybreak and Bolton Lever joined them and all these clubs have done so much wonderful work over the years to support our community here in Bolton.
"Rotarians in Bolton support many of our fantastic local charities through donations of money or equipment or by rolling their sleeves up to help out.
"Rotary has touched lives in Bolton in so many ways over the last 100 years and all the clubs are delighted to be working together to celebrate this centenary with events across Bolton – starting with the launch of this fabulous Blue Raspberry gin.
"To end with a quote from Paul Harris which sums up the work of Rotary in Bolton, 'Whatever Rotary may mean to us, to the world it will be known by the results it achieves'."
Paul Welch, said the gin tastes like Mr Freeze ice lollies and it was an honour to be asked to collaborate.
He said: "It's an honour to be part of this. Chris got in touch with me and said would you be interested in a crazy idea, Bolton Gin Company is a crazy company, so yeah of course I would.
"Obviously I'm more than aware of the Rotary Clubs and the reputation of the charity work they do.
"So, yes, I jumped at the chance. From my point of view, for a small Bolton business to be asked to do it, it really is an honour.
"It's a blue raspberry, so it's blended to taste like Mr Freeze ice pops, it's gorgeous."
Profits from the gin sales will be given to charity with 50 per cent going to the Rotary Foundation and 50 per cent going to the Bolton Rotary Club to fund all activities this year.
The gin is now on sale here.